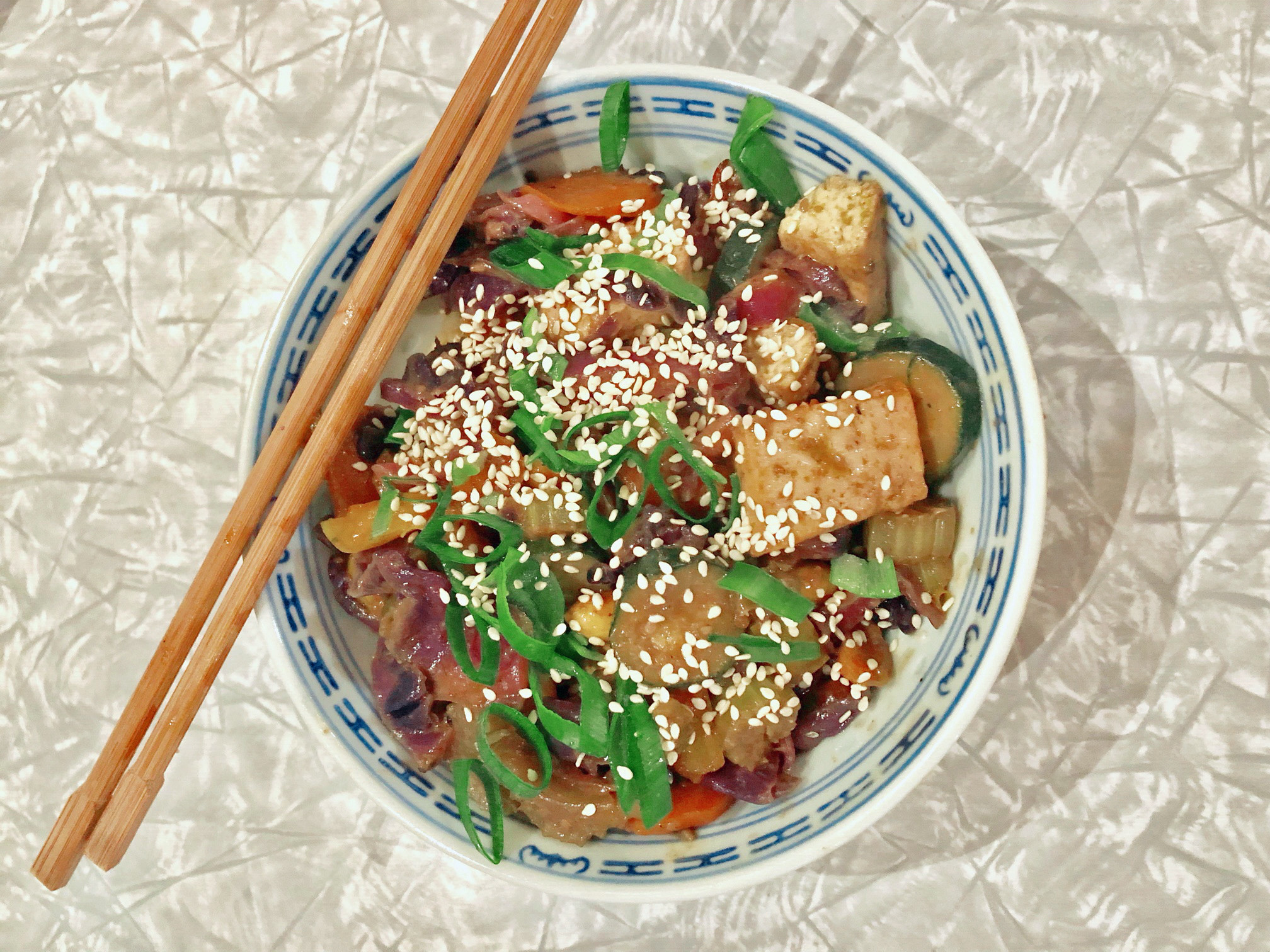 Vegetarianism is growing rapidly in New Zealand, but other parts of the world have had meat-free cuisines for centuries. For a rich and varied plant-based diet, talk to Chinese, Indians, Mexicans… Our wonderful volunteers have shared authentic recipes from around the world. Most of these recipes were traditionally vegan, but some were meat-based recipes that have been 'veganised'. We have collected 31 recipes from 31 different countries to share with you – one for each day of October, World Vegetarian Month.
Thanks to Cat Lovett for the recipe photo. The recipe originally is from onegreenplanet.org
Cat couldn't find any agave or brown rice vinegar at her local supermaket, so she used Maple Syrup and Rice Wine Vinegar instead. It worked well!
Ingredients
For the tofu


1 package extra-firm tofu, drained
3 Tbs gluten-free tamari
1 Tbs agave nectar
2 tsp toasted sesame oil
1 tsp cornstarch
2 tsp oil

For the vegetables


1 tsp safflower oil
2 large carrots, chopped
2 zucchini, chopped
2 stalks celery, chopped
2 bell peppers, chopped
1 yellow squash, chopped
1/2 small purple cabbage, shredded
3 Tbs tamari
2 Tbs vegan mayonnaise
2 Tbs peanut butter
2 Tbs agave nectar
2 Tbs rice wine vinegar (or brown rice vinegar)
2 tsp toasted sesame oil
2 cloves garlic, minced
1 tsp hot sauce (optional)
1/4 cup peanuts, toasted
Pepper to taste
Directions
Cut the tofu into cubes. In a bowl, whisk the tamari, agave, toasted sesame oil and cornstarch. Add the tofu to the marinade - refrigerate it for at least 30 minutes.
While the tofu is chilling in the marinade, make the sauce. In a bowl, combine the tamari, mayonnaise, peanut butter, agave, brown rice vinegar, toasted sesame oil, garlic, pepper and hot sauce (if you want to use any). If the mixture is too thick, add some water until it is at the consistency you desire. Set aside.
Toast the peanuts over a low flame in a small skillet. Make sure you do not to let them burn. Shake the skillet every now and then to turn the peanuts. You know they are ready when you can smell them. Turn off the heat.
Heat oil in a wok. Drain the tofu from the marinade and cook it, turning the pieces often, until the cubes are browned on all sides ~ 15 minutes.
While the tofu is cooking, chop up the veggies you are using.
When the tofu is browned, remove from the wok and set aside. Add the remaining oil to the hot skillet and add the veggies, one by one, stirring often, until they are just tender. It's good to let the veggies keep their crunch, especially since a sauce is going on top.
When the veggies are to your liking, add the peanut butter and mayo sauce on top and mix through until the sauce is heated through. Add the tofu back to the skillet and garnish with the toasted peanuts.
Latest vegetarian & vegan recipes
Other delicious ideas…